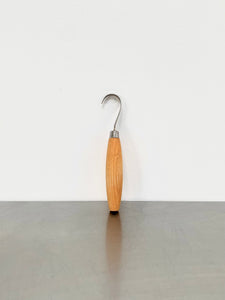 This tool has been specially designed for craftspeople all over the world. The recycled Swedish stainless steel blade has a tight curvature with a left-ground edge that can be used by pulling over a surface that needs to be hollowed out.
With a barrel-shaped oiled handle made of Scandinavian FSC® certified birch wood and a 2.0 mm thick blade of recycled Swedish stainless steel, you can carve fantastic objects where only your imagination sets the limits. The knife's full rat tail tang, which runs through the entire handle, provides both strength and stability in each cut and the handle gives you the opportunity to shape it to your own needs or expression.
It is recommended that the knife have a sheath which protects both the craftsman from the sharp edge and also protects the edge from other surfaces that may dull the knife. I make mine from corrugated card, leather is ideal.

Blade Length: 55 mm
Blade Thickness: 2.0 mm
Knife Length: 164 mm
Total Length: 170 mm
Net Weight: 62.0 g
Steel Type: Recycled Swedish Stainless Steel
Handle Material: Linseed oiled birch
Handedness: Left Handed