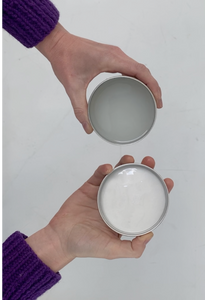 A limited run of Spoon Oil - This batch of Oil is the last of The Warrens Board Oil, which is also excellent for spoons.
This Spoon Oil is different from the beeswax used in my classes, it is a light weight liquid formula made up of Fractionated Coconut Oil, Beeswax, Mineral Oil, and Vitamin E.

Once your spoon is finished dust it off with a clean cloth, and using a dedicated cloth for your oil, dip it in the oil and massage it into your spoon, then using another dry cloth, buff the remaining oil off. I find it good to keep a dedicated cloth for the oil as the cloth absorbs the oil and makes the product last longer, and it makes it easier to top up any of your other wooden utensils with Oil if you like.
PLEASE NOTE: The oil runs quite thin, take care when opening the pot. Keep the oil sitting in an upright position, and clean the lid of oil with your dedicated cloth before closing.